Congress passes spending bill amid doubts. How much does it actually cut?
The spending deal that averted a government shutdown passed the House and Senate Thursday. But a recent report suggests it cuts only $352 million this year, not $39 billion.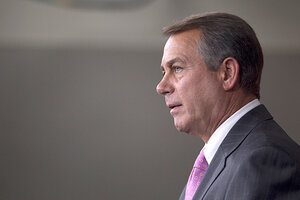 Evan Vucci/AP
The House and Senate Thursday passed the spending bill for fiscal year 2011, averting a government shutdown and putting its seal on the deal agreed to by President Obama, House Speaker John Boehner, and Senate majority leader Harry Reid last Friday.
But no one was running victory laps.
Getting to a bipartisan deal to cut $38.5 billion in spending took more than six months and, at the end, weeks of intense staff negotiation. By Thursday afternoon, however, many House Republicans were wondering if it had all been for nothing.
A report released Wednesday by the nonpartisan Congressional Budget Office suggested that the deal cuts a measly $352 million from spending in the current fiscal year, not $38.5 billion. The main reason for the discrepancy, according to the CBO: Many of the cuts involve money that wasn't going to be spent this year anyway.
In the end, House Republicans needed votes from Democrats to pass the bill, which passed 260 to 167, with 59 GOP conservatives opposing the bill and 81 Democrats supporting it. The Senate bill passed 81 to 19, with 15 Republicans, three Democrats and one Independent voting in opposition.
---