Democrats' deficit-cutting plan: Big Oil subsidies the first target
Senate Democrats on Tuesday began enumerating ways to cut the US budget deficit. Tax breaks for oil and gas companies topped their list, as they challenged Republicans to whittle 'subsidies.'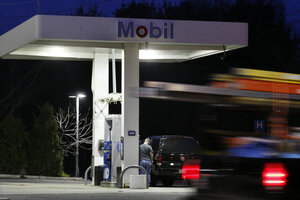 Elise Amendola/AP
Senate Democrats launched an assault on tax breaks for Big Oil on Tuesday in what has become a ritual in a closely divided Congress. But this time the target isn't just Big Oil but also big deficits.
The targeted tax breaks for the top five oil companies – Exxon Mobil Corp., Royal Dutch Shell, BP, Chevron Corp., and Conoco Phillips – account for about $21 billion in taxpayer subsidies over 10 years, or $2 billion a year. The billions that Democrats expect the US government to recoup by zeroing out various tax breaks would go to relieving the nation's budgetary shortfall.
"If we cannot end subsidies to the five biggest, most profitable corporations in the history of the planet, that come from the federal taxpayers, then I don't think anyone should take us seriously about deficit reduction," said Sen. Claire McCaskill (D) of Missouri at a briefing with reporters on Tuesday. Other sponsors include Sen. Robert Menendez (D) of New Jersey and Sen. Sherrod Brown (D) of Ohio. All are up for reelection in 2012.
---