Obama loses a top economic adviser. In this economy, is that a good thing?
White House economist and longtime Obama adviser Austan Goolsbee says he's returning to academia. Considering Americans' views of the slow recovery, perhaps that helps the president.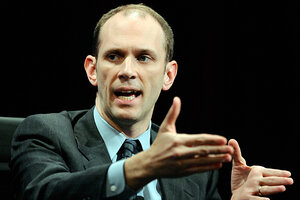 Jonathan Ernst/Reuters
Austan Goolsbee isn't exactly a household name, though fans of the Daily Show might recognize the White House economist and long-time adviser to President Obama from his bantering appearances with Jon Stewart in recent years.
In addition to his job, since September, as chairman of the White House Council of Economic Advisers (CEA), Mr. Goolsbee has also tapped into his skills as a performer to explain economics in lay terms in countless TV interviews and White House videos showing him at the "white board." As a Yale student, Goolsbee was a member of the improv troupe Just Add Water and a champion debater.
But no amount of verbal gyrations can convince the public that the economy is improving, as the unemployment rate (now 9.1 percent) clicks upward and economic growth remains sluggish. And now Goolsbee is departing Washington to return to his teaching job at the University of Chicago. His stated reason was to preserve his tenured professorship.
---