Five reasons the GOP race is so unsettled
Among the Republican candidates, Mitt Romney has emerged as the early front-runner. Yet the field remains as uncertain as any in modern times – can any of them beat Obama?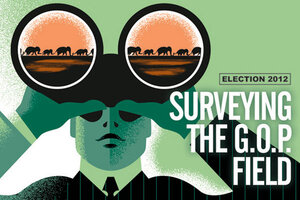 Laura Smith/John Kehe illustration
Herman Cain strides into the BeanTowne Coffee House in Hampstead, N.H., on Memorial Day morning, staffers in tow. The presidential contender – a tea party favorite and the only African-American in the Republican primary race – had advertised his visit, and folks are eager to shake his hand, snap a picture, and ask him a question or two.
"Is America Ready?" read the Cain buttons some are wearing.
"Ready for what?" I wonder. So I ask the candidate.
Mr. Cain, the former chief executive officer of Godfather's Pizza and a former talk radio host, has a ready answer, delivered with a hearty laugh: "for real problem solving and real leadership, which means the real Herman Cain. But if you ain't ready for leadership and you ain't ready for real problem solving, you ain't ready for Herman Cain!"
Cain is tall, bluff, and well-dressed, and it's not hard to see why he is catching on with some Republican voters, who like his private-sector success.
A 29-person focus group led by GOP strategist Frank Luntz deemed Cain the hands-down winner of the May 5 GOP debate in South Carolina. And he's shot up to second place in Iowa, behind former Massachusetts Gov. Mitt Romney, and is tied at 15 percent with former Alaska Gov. Sarah Palin in the latest survey by Public Policy Polling (PPP).
---