Ben Bernanke: Deficit must be cut, but debt limit 'the wrong tool'
Fed chief Bernanke avoids taking a position on taxes while telling Congress it must act 'in a timely manner' to reduce the deficit. Failing to raise the debt limit, he says, would be a costly mistake.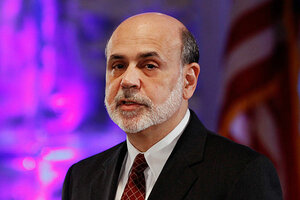 Kevin Lamarque/Reuters
Federal Reserve Board chairman Ben Bernanke, in his toughest words yet, warned Congress Tuesday that it has to act "in a timely manner" to reduce the federal budget deficit.
Mr. Bernanke, however, did not weigh-in on the most intractable part of the problem – whether to raise taxes or cut government programs. Republicans want to cut spending but not necessarily raise taxes. The Democrats want to raise taxes on the wealthy on top of some spending cuts.
With the parties embroiled in this impasse, the nation is quickly coming to a point – on or about Aug. 2 – where the government will not be able to fund its on-going operations or pay its debt.
Bernanke warned lawmakers that playing a game of chicken in the showdown over whether to cut programs or raise taxes by failing to increase the federal debt ceiling is a mistake that could cause "severe disruptions in financial markets and the payments system."
In fact, Bernanke warned that if Congress failed to act, over the long term it could hurt the value of the US dollar and the trust other nations and investors have in US Treasury securities.
"Interest rates would likely rise, slowing the recovery and, perversely, worsening the deficit problem by increasing required interest payments on the debt for what might be a protracted period," Bernanke said. He was addressing a combination of lawmakers and budget experts at the annual conference of the Committee for a Responsible Federal Budget in Washington.
---