Anthony Weiner scandal: Is anything in Congress private anymore?
Rep. Anthony Weiner finally acceded to demands that he resign because of his 'sexting' scandal. The incident further opens private lives in Congress to public scrutiny.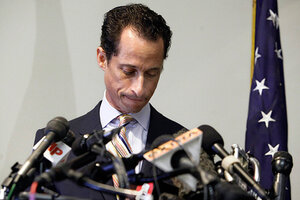 Richard Drew/AP
Had he not lied, Rep. Anthony Weiner (D) of New York might have survived the "sexting" scandal that ended Thursday with his resignation at a senior center in Brooklyn.
That's the view of many of his former colleagues, speaking Thursday just off the House floor. "Had he come out straight forward in the very beginning, he would have seen less of, 'You've got to go,' " says Rep. Bill Pascrell (D) of New Jersey. "We're all human here."
Still, the speed and intensity of Congressman Weiner's fall raises new questions on the line between public and private behavior that some members and ethics watchdogs find troubling.
"There's now very little distinction between public and private life, and I think politicians should know that," says Melanie Sloan, executive director of Citizens for Responsibility and Ethics in Washington.
The Weiner case "sets a dangerous precedent," she adds. "There are still members of Congress engaged in sexual improprieties. The second you're involved in one, are you out?" she adds.
The message from the Weiner debacle appears to be that you resign if you create too many problems for your colleagues. "If something becomes a scandal, and leaders believe it's a distraction from their message, that's what's going to get a call for a resignation."
After nearly three weeks of media frenzy, House Democratic leaders lost patience as the scandal drowned out their assault on the new GOP majority over jobs, the economy, and proposed cuts to Medicare.
---
Follow Stories Like This
Get the Monitor stories you care about delivered to your inbox.