America's red-blue divide widens on illegal immigrants
The recent actions of Alabama and New York highlight how red states and blue states are heading in exactly opposite directions on laws about illegal immigrants. In this atmosphere, is federal immigration reform possible?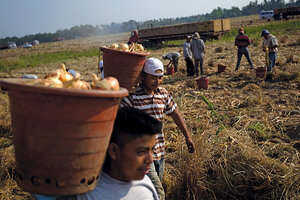 David Goldman/AP
America's red and blue states are increasingly going in exactly opposite directions on the issue of illegal immigration – a testament to how difficult finding middle ground has become on the federal level.
Earlier this month, Alabama followed Georgia and, most famously, Arizona in passing sweeping anti-illegal-immigration legislation. In many respects, Alabama's is the most comprehensive bill of the three, forcing schools to report how much they're spending to educate kids of illegal immigrants, for example.
That same week, however, New York State followed the lead of Illinois and opted out of the federal Secure Communities program, which is designed to identify and deport illegal immigrants in US jails who are convicted of certain felonies. They have criticized the program as casting too broad a net, deporting even "busboys and nannies." Several days later, Massachusetts also opted out, and California could be next.
RELATED: 'SILENT RAIDS' AND E-VERIFY IMMIGRATION ENFORCEMENT ARE DESTROYING US FARMS
As Washington has punted on federal immigration reform, states have become the laboratories to test new approaches. The picture that is emerging, though, is one of a nation divided against itself on the issue.
---