CBO warning to Congress: national debt needs action, and soon
As if Congress needed any more reminding, the national debt will soon get out of control without significant tax hikes or spending cuts – or both, the CBO said Wednesday.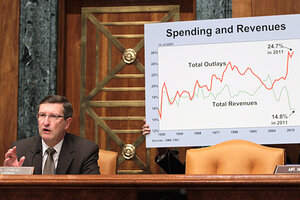 Charles Dharapak/AP/File
If Congress needed any extra incentive to work on fixes for federal budget deficits, it got one Wednesday in the form of a stark warning from its own accountant.
The Congressional Budget Office issued its annual long-term outlook for federal finances, and the overall message is simple: The problem of deficits and fast-rising debt is large, if anything even larger than the official forecast implies.
The challenge isn't impossible to fix, the CBO said. But delay will only make the problems worse.
Many members of Congress are already trying to address the issue, with bipartisan talks chaired by Vice President Joe Biden continuing this week. The goal is to reach consensus on a plan to raise the debt limit while also significantly reducing future federal deficits.
It's getting toward crunch time in those deficit talks, with both sides pressing to find as much as $2.4 trillion in deficit reduction (spread over the next decade), by early July. Congress needs to draft legislation and approve it by early August to avoid having the Treasury run out of cash.
Headed the wrong direction
Although the CBO's basic story line isn't new, this year's report finds that the outlook for the national debt now looks a bit worse than it did a year ago.
"By the end of this year, CBO projects, federal debt will reach roughly 70 percent of gross domestic product (GDP) – the highest percentage since shortly after World War II," Douglas Elmendorf, the director of the nonpartisan agency, said in a blog post accompanying the report. And "with the aging of the population and growing health care costs, the budget outlook, for both the coming decade and beyond, is daunting."
---