Why is Obama tapping the Strategic Petroleum Reserve, really?
The administration's decision to release 30 million barrels of oil from the Strategic Petroleum Reserve is pure politics, say some. The White House says it's trying to offset a drop in Libyan light sweet crude – needed for gasoline – at the height of the summer driving season.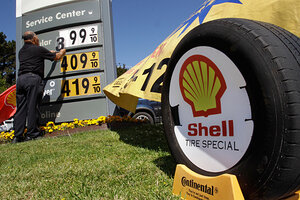 Paul Sakuma/AP
Within the next 24 hours, the nation's refiners will be asked to bid on some 30 million barrels of oil President Obama is releasing from the Strategic Petroleum Reserve.
Even before the first barrel has been refined, Republicans and Democrats are taking opposite sides on the issue. The Republicans call it bad policy to use the oil in a non-emergency and would rather see more permits issued to drill for oil. Democrats are hailing the move as a way to bring relief to the middle class.
Yes, call this a matter of oil and politics mixing.
"Of course this is a political decision – these guys are trying to save their jobs," says Phil Flynn, director of research at PFG Best, a commodities brokerage house in Chicago. "Every move is political when the economy is in trouble."
In a conference call with reporters, administration officials argued the disruption in Libya and other areas in the Middle East warranted the release, especially because those areas produce light sweet crude, which is used to produce gasoline. They said they had been talking to the other 27 members of the International Energy Agency – which is composed mainly of the world's developed countries – about this move for weeks. Other IEA members will release an additional 30 million barrels of light sweet crude from their stockpiles as well.
---