White House insists taxes must be part of the debt and deficit solution
As debt talks shift to Obama, GOP Speaker John Boehner, and Democratic Senate leader Harry Reid, taxes remain the logjam. No one wants to be seen as giving ground on that issue too quickly.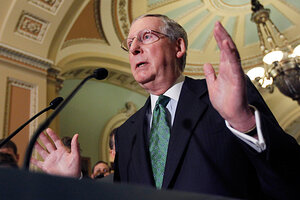 Alex Brandon/AP
President Obama on Monday engaged congressional leaders one on one in a bid to break partisan deadlocks over the budget, especially the GOP taboo on raising taxes, and to get his administration's derailed debt and deficit negotiations back on track. But it's clear that his starting gambit is to try to persuade Republican lawmakers – and the public – of the need for higher taxes for some Americans.
Tax increases – or at least ending tax breaks for corporations or the highest-income Americans – will have to be in the mix, White House spokesman Jay Carney said Monday morning after Mr. Obama met with Senate majority leader Harry Reid. "It's the only way to get it done," he said.
Senate majority leader Mitch McConnell (R) of Kentucky, who meets with the president Monday evening, took to the Senate floor with a sharp warning to the White House to take tax hikes off the table.
"Not only are [higher taxes] counterproductive from the standpoint of an economic recovery," he said, "they're also politically impossible, since Republicans oppose tax hikes and Democrats have already shown they won't raise taxes in a down economy."
---
Follow Stories Like This
Get the Monitor stories you care about delivered to your inbox.