Debt crisis: Senate cancels holiday leave, but will it accomplish anything?
Heeding a call from President Obama, the Senate cancels its July 4th break to deal with the looming debt crisis. But Democratic leaders are not planning any meetings with Republicans.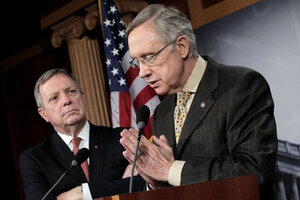 J. Scott Applewhite/AP
Heeding a call from the White House, the Senate canceled its July 4 break next week to stay in session and resolve the nation's looming debt crisis, now set to hit on Aug. 2.
"The time is too short to waste even a moment," said Senate majority leader Harry Reid (D) of Nevada, making his announcement on the Senate floor Thursday.
"If we didn't pay our bills, it would plunge the United States not into a recession, not into the so-called double-dip recession, but into a full-blown depression – and that's without a doubt," he added.
But so far Democratic leaders are planning no meetings with Republicans and the agenda on the Senate floor is expected to be the US role in Libya.
Until Thursday's announcement, the House and Senate had planned to be in session at the same time only nine days between now and Aug. 2. House leaders say that they, too, are open to stay in session throughout the month of July.
"As always, the House will be here if and when needed, whether that's the week of July 18 or the week of August 8," says Laena Fallon, press secretary for House majority leader Eric Cantor (R) of Virginia.
---