Post office closures: What happens if a town has no post office?
The Postal Service announced Tuesday that it will consider closing more than 3,600 post offices. Does that mean people in small towns won't be able to send mail? Not necessarily.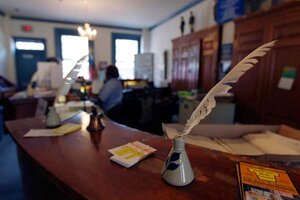 Alex Brandon/AP
Postmaster General Patrick Donahoe on Tuesday painted a picture of what the post office of the future might look like. And for many Americans, he said, it might not even be a post office at all.
With the United States Postal Service facing a potential $8 billion deficit this year as mail volume declines, Mr. Donahoe said the agency will consider closing 3,653 of its 31,871 post offices. Particulaly in rural areas, that could leave a town without a post office – but not necessarily without the Postal Service, he said.
The Postal Service network already includes some 70,000 locations in drug stores, grocery stores, or self-service kiosks. In communities where retail post offices might close, a potential replacement would be this so-called Village Post Office model, which operates in a local business to offer equivalent services.
"By working with third-party retailers, we're creating easier, more convenient access to our products and services when and where our customers want them," Donahoe said in a statement. "The Village Post Office will offer another way for us to meet our customers' needs."
The question of which post offices on the Post Office Study List will survive and which will be closed will be answered in the coming months, with the first closures starting in January. Once closures are announced, customers can file an appeal with the Postal Regulatory Commission. The commission will then allow the closing to occur or have the Postal Service conduct further evaluation.
[Editor's note: The original version of the story incorrectly described the appeal process after the Postal Service announces office closings.]
But Donahoe noted Tuesday that a large percentage of Americans no longer use post offices.
---