In Congress, a bid to make US firms take steps against modern-day slavery
A new bill in Congress would require large companies to reveal any efforts to ensure that child labor, forced labor, and other forms of modern-day slavery did not contribute to their products.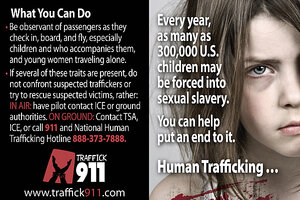 Courtesy of Airline Ambassadors International
Do schoolchildren in Uzbekistan or forced laborers in China pick the cotton that ends up in an American T-shirt?
"It's virtually impossible to get dressed, drive to work, talk on the phone, or eat a meal without touching products tainted by forced labor," said Rep. Carolyn Maloney (D) of New York, at a news conference Wednesday.
Representative Maloney introduced a bill this week that would require large US companies to disclose their efforts to ensure that no young children, adult slaves, or human trafficking victims are part of their supply chains. While the rule would not compel companies to take such precautions, it could give those that do a competitive edge.
Consumers "might want to buy a shirt that's not made with slave labor," said Maloney. "And they'll be able to do it with this reporting system."
The bill faces an uphill battle to become a law, notes Steven Cohen, professor of International and Public Affairs at Columbia University in New York.
It takes on a practice – modern-day slavery – that is "ethically repugnant," he says, "but I don't think the Republican-controlled House is going to pass any sort of law regulating corporate behavior at this point."
The bill would require any company earning more than $100 million worldwide to document its efforts in two places: its annual Securities and Exchange Commissions (SEC) filing, and the company's website. These disclosures would detail the companies' policies to prevent illegal labor and their methods for certifying that suppliers abide by them.
---