Should Obama go on vacation while markets are so skittish?
Some say vacationing now sends the wrong message, while others say that presidents need breathers, too – and note that his Monday speech sent the Dow further downward.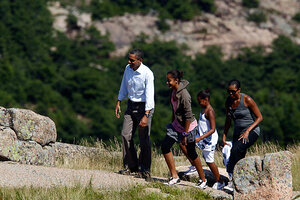 Jim Young/Reuters/File
President Obama's planned August vacation is still a week away, but a rough ride for global financial markets this week has already sparked discussion about his plans. Specifically, should Mr. Obama ditch his beach plans and focus on the economy?
There's something a bit unseemly, after all, about the idea of America's chief executive lounging on Martha's Vineyard when stock markets are tanking – especially when one of the reasons for investor concern is doubt about the ability of political leaders to resolve government-debt challenges in Europe and the US.
At the same time, the media buzz may be premature.
Pressure on the issue eased temporarily, at least, as the US stock market staged a strong upward bounce on Thursday. The Dow Jones Industrial Average rose 423 points to close at 11,143, as investor fears about conditions in Europe – particularly France – eased.
Some political analysts say the idea of cancelling the vacation would be misguided, unless there's something specific the president expects to announce or achieve by staying in Washington.
---