Role reversal as Wall Street blames Washington for economic woes
A number of economists and financial managers say Washington is making the volatility on Wall Street worse, when it should be acting as a calming influence.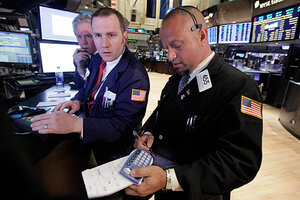 Richard Drew/AP
Usually, Washington points the finger at Wall Street for some financial tomfoolery. But now some Wall Street commentators say Washington bears some responsibility for the wild markets over the past several weeks.
They argue the wild swings started right after Congress finished wrangling over extending the federal debt ceiling. Then, after Standard & Poor's downgraded the credit rating for US debt because of the politics involved in reaching any future agreement, the markets got really extreme – dropping 623 points in one day. The result: many investors say Washington's behavior had something to do with raising the level of angst.
"I talked to a lot of financial consultants and investors on a one-on-one basis and most feel the way it was played out was almost Machiavellian, and it created a lot of uncertainty and volatility that was not needed," says Fred Dickson, chief investment strategist at D.A. Davidson in Lake Oswego, Ore. "There is a considerable amount of blame resulting from Washington's misbehavior."
Of course, Washington was not the only reason the stock market rose and fell by triple digits for five consecutive days. (On Monday, the market was somewhat less volatile, and the Dow Jones Industrial Average gained 213.88 points, another triple digit move, as it continued a rebound that started late last week.) The volatility coincided with rising worries over whether some European nations might default on their debt, causing a new banking crisis. And the Federal Reserve did not help investor confidence when it said it expected slow economic growth for the next two years.
---