Under the gun on jobs, Obama tells Congress to pass major transportation bill
As he prepares for his critical speech on jobs, President Obama is urging Congress to fund a major transportation bill. It pays for infrastructure work on roads, bridges, and mass transit systems.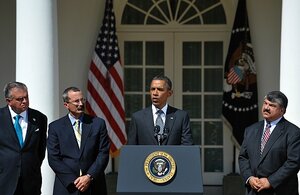 Newscom
In a run-up to his much-anticipated jobs speech next Thursday, President Obama is banging the drum for legislation that would save thousands – perhaps millions – of jobs around the country right now.
It's the Surface Transportation Bill, which funds construction of roads, bridges, mass transit systems, and other infrastructure projects with gasoline taxes. Without congressional action extending the bill's authority, such funding would halt at the end of September. Even before that, the law authorizing aviation ticket taxes to pay for airport construction expires on September 16.
"Right away, over 4,000 workers would be furloughed without pay," Obama said in his weekly radio and Internet address Saturday. "If it's delayed for just 10 days, we will lose nearly $1 billion in highway funding that we can never get back. And if we wait even longer, almost 1 million workers could be in danger of losing their jobs over the next year."
RECOMMENDED: 'Zero job' economy: 11 ways Washington can fix it
"Those are serious consequences, and the pain will be felt all across the country," he warned. "In Virginia, 19,000 jobs are at risk. In Minnesota, more than 12,000. And in Florida, over 35,000 people could be out of work if Congress doesn't act."
---
Follow Stories Like This
Get the Monitor stories you care about delivered to your inbox.