Can 'super committee' play fair as it tries to control national debt?
The task of reining in the national debt lies in the hands of a super committee of 12, which gets down to business now that Congress is returning from its summer break.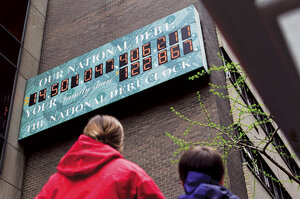 Andrew Harrer/Bloomberg via Getty Images/File
Congress returns from its summer break to an agenda dominated by jobs – and how to cut at least $1.5 trillion in deficits over the next 10 years.
But unlike the looming debate over how best to create jobs, Congress's cost-cutting agenda has deadlines and fixed consequences if lawmakers fail to act.
The task to control the national debt lies in the hands of a "super panel" of 12, which is outnumbered by Washington's lobby community by nearly 1,000 to 1.
The Joint Select Committee on Deficit Reduction, aka super Congress or super committee, is Congress's answer to its own inability to break the hold of partisan gridlock that took America to the brink of default on Aug. 2, prompting the first-ever downgrade of the nation's credit rating.
The panel, which on Thursday holds an organizational meeting open to the public, has a sweeping mandate to propose cuts to spending and entitlements and recommend tax reform by Nov. 23. Congress must vote the package up or down – no amendments or filibuster – by Dec. 23, or trigger a $1.2 trillion package of automatic spending cuts, equally divided between defense and domestic spending.
"Never has Washington had an all-or-nothing panel that is empowered and backed by a firm timeline like this one is," says John Ullyot, a public-affairs consultant in Washington and former GOP Senate staffer. "The starter pistol will fire right after Labor Day."
With everything on the table, Washington's 12,000-member lobby community is gearing up for an all-fronts defense of hard-won tax provisions and spending priorities.
"All loopholes and priorities in this tax code are possible targets. You'll see lobbying across the entire spectrum of items protected in the tax code," Mr. Ullyot says.
---