9/11 lessons not learned: three failed reforms
Most of the 9/11 commission's recommendations have been implemented, but three reforms, in particular, have failed to fully take shape since 2001.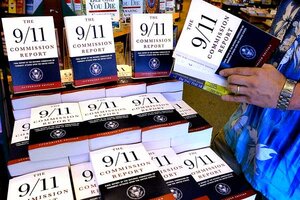 Seth Perlman/AP/File
Created by Congress in late 2002, the 9/11 commission was mandated to prepare a full and complete account of the circumstances surrounding the September 11, 2001, terrorist attacks and to provide recommendations designed to guard against future attacks.
The resulting 9/11 commission report produced a rarity in public life – a government report that's also a bestseller. More than 6 million people downloaded the final report, and another 1.5 million purchased W. W. Norton's authorized edition, reissued Aug. 8.
The events of 9/11, along with strong pressure from families of the victims, gave the 9/11 commission's final report, released on July 22, 2004, powerful momentum. Despite a highly polarized campaign cycle, the 9/11 commission's recommendations were endorsed by both leading presidential candidates and most members of Congress. Most of its 41 recommendations became law or were implemented by executive order.
But now, 10 years after the attacks, significant gaps in carrying out the recommendations remain. Here are three reforms that, though widely supported, have languished in Congress:
Homeland Security too unwieldy
The 9/11 commissioners called on Congress to create a single, principal point of oversight for homeland security to avoid a massive, often duplicative reporting burden. Today, 108 committees oversee homeland security – up from 88 when the 9/11 commission declared the system "dysfunctional."
"Few things are more difficult to change in Washington than congressional committee jurisdiction and prerogatives," the report concluded. "The American people may have to insist that these changes occur, or they may well not happen." Such has been the case.
Since January, the Department of Homeland Security (DHS) has provided more than 1,800 briefings to congressional committees and subcommittees and testified at 120 hearings. From 2008 to 2010, DHS witnesses prepared 4,072 briefings and testified at 304 hearings.
---