Congress's new brinkmanship: Better or worse than politics as usual?
The old way of resolving disputes on Capitol Hill – backroom deals greased with US dollars for lawmakers' districts – has been replaced this year by a new brinkmanship. But the game of chicken has its own unintended consequences.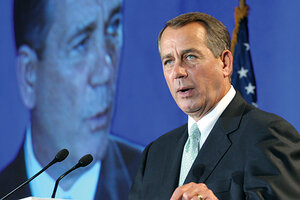 Susan Walsh/AP
Crisis mode is becoming the new normal for Congress, which in the past nine months has stonewalled its way into three government shutdown scares and an unprecedented near-default on the national debt.
Almost gone on Capitol Hill is the old way of resolving disputes: backroom deals greased with federal dollars destined for lawmakers' home districts. In its place is a new brinkmanship fixed almost exclusively on cutting federal spending.
The new modus operandi? Draw a line in the sand, threaten Armageddon, then hold out until the other side caves or financial markets tumble, whichever comes first. It's an approach, say critics, that calls into question Congress's capacity to fulfill its basic constitutional obligations.
"It's governing by threat, high stakes, and cliffhangers," says Julian Zelizer, a congressional historian at Princeton University. "You wait until the last minute; both sides are willing to threaten shutdown. The worst scenario is that the players are getting used to governing this way. The more you do something like this, the more comfortable you get to do it again."
The new brinkmanship coincides with the Republican takeover of the House in January, including 87 freshmen, many elected with tea party support. The new majority had campaigned to cinch government, get the United States on a sustainable fiscal course, and not raise taxes, period. The intensity of that commitment – and the willingness of GOP leaders to stick to it, even in the face of possibly draconian outcomes – stunned the Obama White House and congressional Democrats, who took months to adapt.
---