Everybody has an opinion about the Occupy Wall Street movement
As the Occupy Wall Street movement begins its fourth week and spreads around the country, politicians and the public are weighing in. Will it have the staying power of the tea party movement?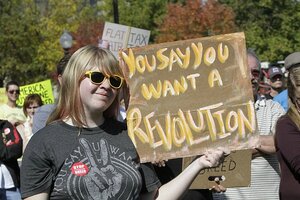 Michelle Pemberton/The Indianapolis Star/AP
Everyone, it seems, has an opinion about the Occupy Wall Street movement and related demonstrations now headed into their fourth week.
At the most elemental level, some merchants near the hub of activity in Manhattan's Zuccotti Park are getting a bit fed up with the camped-out crowds – locking restrooms and providing keys to cash-paying customers only.
"I'm looked at as the enemy of the people," café owner Stacey Tzortzatos told the New York Times.
IN PICTURES: Wall Street protests multiply
For its part, the American public seems ambiguous about the movement – apparently separating message from image.
According to a Rasmussen poll this week, 79 percent of Americans agree that "the big banks got bailed out but the middle class got left behind."
But, reports Rasmussen, "Americans are divided on the protesters themselves. Thirty-three percent have a favorable opinion, 27 percent hold an unfavorable view, and a plurality of 40 percent have no opinion one way or the other."
It was inevitable that the movement would become political, particularly when it lasted beyond a couple of weeks and spread to dozens of other cities. So politicians began weighing in, pretty much along party lines.
"The fact is these people are anarchists," Rep. Peter King (R) of New York said on the Laura Ingraham radio show Friday. "They have no idea what they're doing out there. They have no sense of purpose other than a basically anti-American tone and anti-capitalist. It's a ragtag mob basically."
---