Oakland braces for strike, marches. Can Occupy protesters close the port?
Oakland, Calif., is braced Wednesday for a general strike, called by Occupy Oakland. The city has seen some of the Occupy movement's worst violence so far, but union participation in the strike may have a pacifying effect.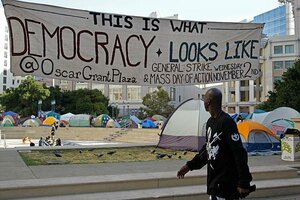 Ben Margot/AP
The city of Oakland, Calif., the site of the Occupy Wall Street movement's worst violence to date, is bracing for a general strike and day of mass action by Occupy Oakland Wednesday, and organizers say they expect a healthy cross section of their community to turn out in support.
"We have school teachers and students, unionized and nonunionized workers, as well as city workers determined to take the day off or come before work or after work, whatever they can do without losing their jobs," says media team spokesman Allan Brill.
Occupy Oakland's plans include a noon march on Wells Fargo Bank, as well as two "convergences" of protesters at 4 and 5 p.m., which will march on the Port of Oakland with the intent of shutting it down for the evening shift.
"The port is a symbol," says rapper Boots Riley, one of the local movement's many organizers, who notes that the port was chosen as a way to show solidarity with those opposing "union-busting by big corporations."
The move is meant to show solidarity with longshoremen in Washington State who are opposing anti-union actions by international grain exporter EGT, Mr. Riley says, noting that EGT's parent company, Bunge Limited, an agribusiness and food company, has ties to Wall Street.
---