Obama jobs plan vs. GOP's: Which ideas will yield most jobs soonest?
Obama is unrelenting about touting various parts of his jobs bill. Wednesday's theme: construction jobs. But Republicans have their own job-creation ideas. If Congress eventually takes bits from both sides, where's the biggest bang for the buck?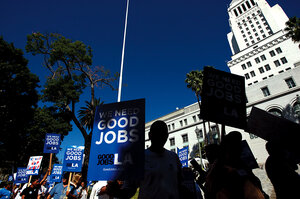 Genaro Molina/Los Angeles Times/AP
Jobs, jobs, jobs. That's what opinion polls say Americans want most – and what they most want their representatives in Washington to address. Yet in the seven weeks since President Obama put forward his American Jobs Act – which some independent analysts say would create more than 1 million jobs next year – Congress has not approved one piece of it.
Nor have lawmakers been able to advance any part of the Republican Jobs Through Growth Act counterproposal.
Expectations now are that Congress will pick and choose pieces of both plans that can win bipartisan appeal. Mr. Obama notes that many ideas in his plan have had such support in the past. But Congress has shown little appetite for compromise.
Mr. Obama, however, keeps pitching his job-creation ideas – though he's talking now as much to American voters, as he looks ahead to a reelection bid, as to Congress. He stood Wednesday in front of Washington, D.C.'s Key Bridge to tout the transportation piece of his jobs bill, saying it would make an immediate investment of $50 billion in national transportation infrastructure and a $10 billion investment for a bipartisan National Infrastructure Bank.
"Construction workers have been among the Americans hit hardest over the past few years. And that makes no sense when there's so much of America that needs rebuilding," Obama said. His plan would put hundreds of thousands of construction workers back to work rebuilding roads, bridges, airports, and transit systems, he said.
Nonpartisan economists, however, lack a clear consensus on whether so-called fiscal stimulus programs like Obama's can make a meaningful impact.
So, if Congress were actually to do something to try to help the 14 million Amer­icans who are out of work – a number that goes higher if you count people too discouraged to seek a job – what parts of the various jobs bills should it undertake first?
Here's an analysis of the job-creation potential of Obama's plan, according to the generally pro-stimulus Moody's Analytics, and of a counterproposal from Republicans.
Temporary tax cuts = total job gains of 1.05 million
---