Ohio voters to decide bargaining rights for public employees
Echoing Wisconsin and other states, Ohio is considering a law that would limit public employees' collective bargaining rights. The measure, pushed by Republican Gov. John Kasich, faces a referendum vote.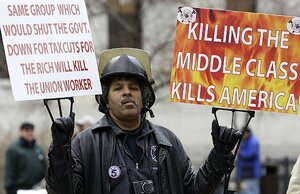 Jay LaPrete/AP
Ohio voters on Tuesday will decide whether to uphold a controversial labor law designed to change the face of the public-sector labor force in the state.
If passed, the new law will replace a 28-year-old collective bargaining law with a new version that restricts the bargaining terms for the state's nearly 400,000 public employees, prohibits strikes, and gives management the final say on such topics as health insurance.
Ohio Gov. John Kasich (R) signed Senate Bill 5 into law in late March to replace the 1983 law with one he said would close the state's budget gap and save the state $8 billion.
Opponents cried foul, saying the bill's true purpose is to weaken unions, a charge made often in Wisconsin earlier this year when that state's Republican leadership pushed through a similar bill that brought hundreds of thousands of people to the state capital to protest for weeks.
National attention on the issue is corresponding to the money filtering into the state from special-interest groups.
According to the Cleveland Plain Dealer, We Are Ohio, a national labor group opposing the bill, is leading the money drive, having raised $19 million since July. Building a Better Ohio, a group advocating the law, raised $7.6 million in that same period.
Building a Better Ohio and other groups backing the bill reportedly have ties to billionaire industrialists David and Charles Koch and to Mary Cheney, daughter of the former vice president.
Last-minute media blitzes are also spanning the state. This weekend, Ohio voters are receiving robo-calls from former Alaska Gov. Sarah Palin (R) asking them to uphold the bill. On her Facebook page, Ms. Palin calls herself "a proud former union member" and said the new bill "will help restore fairness to Ohio taxpayers and help balance the budget."
---