No kid gloves as New York police prevent Wall Street occupation
New York police shoved protesters away from the entrance to Wall Street Thursday, in latest showdown with the Occupy Wall Street movement. Other protests to come on 'day of action.'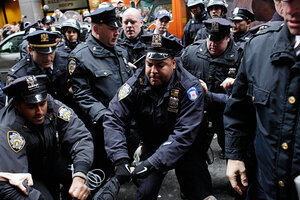 Seth Wenig/AP
The Occupy Wall Street movement pretty much failed to occupy Wall Street.
A heavy police presence at first kept protesters away from the New York Stock Exchange, which opened trading on Thursday morning right at the usual 9:30 bell. Then, police officers started pushing and shoving protesters on sidewalks away from the entrance to Wall Street. By 10 a.m., the protest was pretty much dispersed on what the Occupy movement is calling "a day of action" commemorating its two-month anniversary.
Still to come for New York on Thursday: some form of protest at selected subway and mass transit locations, and an attempt to march across the Brooklyn Bridge.
The effort to prevent Wall Street trading comes a day after police evicted OWS protesters who had been camping out in nearby Zuccotti Park. A state court on Wednesday ruled that the city could shut down the tarp-and-tent city. On Thursday morning, police barricades kept protesters out of the park, where only a handful of people hoisted cardboard signs and waved protest flags on the sidewalk perimeter.
Because protesters were not able to use Zuccotti Park, much of the protest occurred as a march. Protester Anastasia Shelby, a graduate student living in New York, carried a sign proclaiming "Slumlord Bloomberg Billionaire OWS Not Going Anywhere."
---