Nuclear safety: NRC chairman is a tyrant, colleagues tell Congress
Four commissioners from the NRC, the federal agency that oversees nuclear safety at power plants, told Congress Wednesday that their chairman is a bully who is poisoning the commission.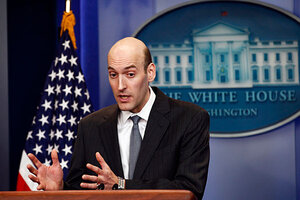 Kevin Lamarque/REUTERS/File
In a heated congressional hearing today, four members of the Nuclear Regulatory Commission testified that the fifth – Chairman Gregory Jaczko – had usurped his authority, kept key information from them, and bullied commission staff.
The four NRC commissioners testified that the strife had not compromised the group's oversight of the nation's nuclear reactors, which generate nearly a fifth of the nation's electricity. But they said safety could ultimately be affected by the chairman's tight control, which was poisoning the NRC's traditionally collegial environment.
In particular, commission members suggested that Chairman Jaczko has become dictatorial during the Fukushima nuclear crisis in Japan – single-handedly activating the NRC's emergency monitoring station, enacting emergency measures that gave him extra powers, and initiating a "lessons learned" task force.
Commissioners said they were not informed or consulted on the moves and were also given little information about the Fukushima meltdowns.
Moreover, such behavior stretched beyond the Japan crisis, the commissioners added.
Jaczko was determined to be the sole gatekeeper for issues and information to come before commission, to the point that some staffers feared his reaction if he disagreed with their expert analysis, said Commissioner William Magwood IV in his written statement.
---