Weekend violence in Oakland: Is Occupy movement back, or broken? (+video)
Has the Occupy movement abandoned nonviolence? Oakland protesters and police issue contradictory accounts of clashes that led to hundreds of arrests and several injuries.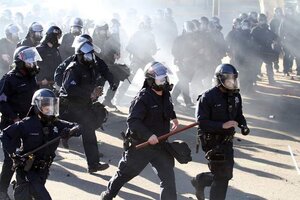 Bay Area News Group/The Tribune/AP
As Oakland, Calif., puts the Occupy movement back in the national spotlight with TV images of flag-burning and violent police clashes, a media war is under war to define the very nature of the Occupy movement itself, with Oakland as its potential flag-bearer.
Competing narratives as to what transpired over the weekend have been emerging in the digisphere and on YouTube. Depending on whose press releases or tweets you believe – which alternately portray the police or protesters as the violent instigators – this weekend could either be the black eye that becomes the Waterloo of the four-month-old global protest movement or the signal bell of its reawakening.
The struggle to define the group's actions is already playing out in an escalating rhetorical war. On Monday, Oakland Mayor Jean Quan told the local CBS affiliate she planned to call "some of the national leadership of Occupy this week to say that the Oakland group is not nonviolent," with the hope that the larger group will distance itself.
At the same time, Occupy Oakland media team member Shake Anderson dismisses Mayor Quan's charge, saying simply, "We did not attack the police, they attacked us."
On Saturday, according to an Occupy Oakland statement, protesters began a series of actions attempting to put "a vacant building to better use," which Mr. Anderson acknowledges can be seen as trespassing. The site in question has been vacant for six years, according to the statement, which asserts that the Occupy group had voted to mount a nonviolent action to turn the space into a social center and headquarters of Occupy Oakland.
The crowd was met with an overwhelming police force, says Anderson, a force buttressed by mutual aid from 13 surrounding cities.
"We did not throw anything," says Anderson.
---