FCC: Chicago station can drop graphic antiabortion ad during Super Bowl
Antiabortion activist Randall Terry, a write-in candidate for president, demanded that a Chicago station run an ad showing aborted fetuses during the Super Bowl. The FCC ruled against him.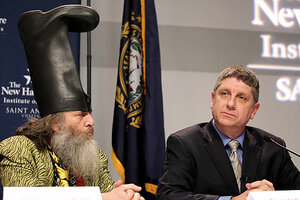 Cheryl Senter/AP
A Chicago television station has the right to refuse Randall Terry's request to air an antiabortion ad during the Super Bowl, the Federal Communications Commission (FCC) ruled Friday afternoon.
The longtime antiabortion activist has been running for president on some states' Democratic primary ballots. He has used that position to take advantage of FCC rules giving candidates access to air ads in advance of primaries or elections.
While stations in four states do plan to air the graphic ad during their Super Bowl, WMAQ-TV in Chicago denied Mr. Terry's request, prompting Terry to file a complaint with the FCC.
The FCC ruled that the station was reasonable to conclude that "Terry did not make a substantial showing that he is a legally qualified candidate entitled to reasonable access to broadcast stations in Illinois."
Furthermore, even if he were qualified, "he would not be entitled to particular placement of his spots on a particular program on a station's broadcast schedule," the FCC ruled.
Based on the ruling, several other stations will perhaps deny similar requests by Terry for Super Bowl airtime.
Terry had tried to show that he had engaged in enough campaign activities to qualify, even though he is a write-in candidate in about 75 counties rather than having his name appear on the ballot in Illinois.
---