Boehner vows Congress will reverse Obama birth control policy
Congress enters the church-state fray over the Obama policy on birth control, with House Speaker John Boehner saying Wednesday that lawmakers will reverse it if the White House doesn't.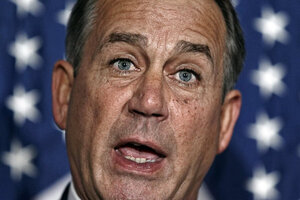 J. Scott Applewhite/AP
Congress this week plunged into fray over new Obama administration rules that will require religious employers to offer birth control in their health-insurance programs, even if contraception runs afoul of their religious doctrines.
The new rules, announced Jan. 20, set off protests from mainstream Roman Catholic organizations and social conservatives, and Democrats themselves are feuding over whether the president should back off. White House officials say they are continuing to look for a "win-win solution."
But for House Republicans, already embroiled in a bruising public-relations battle with the White House over jobs and budget deficits, the issue gave an unexpected new line of attack.
In a rare floor speech, Speaker John Boehner on Wednesday called the Obama administration's new rules "an unambiguous attack on religious freedom in our country."
The rules, he added, would require faith-based employers, including Catholic charities, schools, universities, and hospitals, to include in their employee health insurance certain services they deem to be immoral, such as sterilization, abortion-inducing drugs, and contraception.
"If the president does not reverse the [Health and Human Services] department's attack on religious freedom, then the Congress, acting on behalf of the American people and the Constitution that we're sworn to uphold and defend, must," Mr. Boehner added.
The proposed rules do not require churches to give their direct employees medical insurance that includes access to contraception, but it does require church-affiliated hospitals or schools to adhere to the mandate. Backers of the new mandate describe it as a protection to women's health, especially poor women who could not otherwise afford contraception.
---