Payroll tax vote exposes divisions within each party
Despite the bipartisan support for the payroll tax bill, blocks in both parties had reservations: Republicans angry that the measure was not paid for, and Democrats worried about the health of Social Security.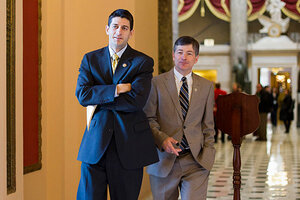 J. Scott Applewhite/AP
In a rush to recess, Congress on Friday extended a payroll tax holiday and other expiring measures through the end of the year in rare bipartisan votes that nevertheless exposed internal divisions in both parties.
In addition to averting a 2 percent hike in payroll taxes that would have been effective March 1, the bill also blocked a 27 percent hike in reimbursements to physicians treating Medicare patients and extended jobless benefits for some 13 million unemployed Americans.
Despite broad support for all three measures, the path to a final deal was difficult and protracted. Moreover, the votes in both the House and Senate signaled rifts within party ranks on core principles.
On the House side, 91 Republicans broke with their own leadership to oppose extending a $100 billion payroll tax cut without spending cuts to pay for it. The bill passed 293 to 132, with the critical support of 147 Democrats, one more than the number of Republicans who voted in favor.
The Senate passed the measure with the minimum 60 votes required to block a filibuster. This close vote in the Senate came as somewhat of a surprise, since a two-month extension of this package had passed the Senate last December on a strong, bipartisan vote, 89 to 10.
At the time, the sticking point had been the House, where GOP lawmakers, in the majority, tried to hold out for a full year extension, paid for with spending cuts. Up against a Dec. 31 deadline, Speaker John Boehner (R) of Ohio informed his caucus that they had no option but to back down to avoid a payroll tax hike that was sure to hurt GOP prospects in November elections.
Had Congress failed to act, some 160 million Americans stood to lose a tax break worth about $1,000 a year.
---