Keystone XL pipeline: New route, new problems for Obama?
President Obama blocked the Keystone XL pipeline in January, saying Congress didn't allow enough time to assess the project. TransCanada has now proposed a new route though sensitive areas of Nebraska, and Republicans are trying to do an end run around Obama.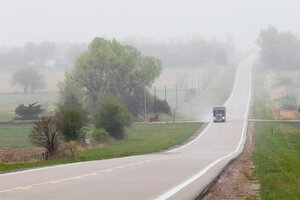 Nati Harnik/AP
Nebraska officials on Thursday unveiled TransCanada's newly proposed route for its controversial Keystone XL pipeline, which would jog eastward to avoid the key aquifer underlying the Sand Hills region of the state.
TransCanada, a Canadian pipeline company, hopes to build the 1,400-plus mile Keystone XL down to Cushing, Okla., connecting it there with a second, southern leg. That 480-mile leg would take the diluted heavy bitumen oil from Alberta's tar sands region to refineries on the Gulf Coast of Texas.
President Obama in January rejected the pipeline, saying legislation passed by Congress didn't allow enough time to evaluate the pipeline's environmental impact or whether it is in the national interest. Congress had given the White House 60 days.
The potential new route is being unveiled just as a Republicans in Congress are considering an attempt to wrest authority for its review from the Obama administration.
---