House passes cybersecurity bill despite veto threat over privacy protections
The cybersecurity bill seeks to protect the nation from cyberattack, but concerns over how personal information is shared with the government and corporations has sparked opposition and a veto threat from the Obama administration.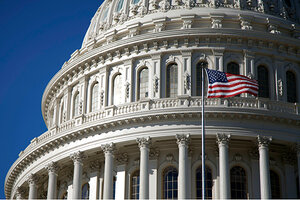 Carolyn Kaster/AP/File
Among the few things that members of Congress seem to agree on this election year is the need for new cybersecurity legislation to protect the nation from cyberattack. But there's wide disagreement about how to reach that common goal, and privacy protections are at the core of the dispute.
New cybersecurity legislation that passed by a vote of 248 to 168 late Thursday in the House of Representatives permits Internet service providers (ISPs) to share information back and forth with US government agencies in order to identify and defeat cyberattacks.
But amid concerns the bill does not sufficiently protect individuals' privacy, the legislation ran into a significant pushback at midweek that portends further wrenching adjustments before a final bill can emerge.
Despite passage, the new Cyber Intelligence Sharing and Protection Act (CISPA) lost steam and apparently a number of votes when on Wednesday the White House threatened a veto – and the Center for Democracy and Technology, a key privacy rights group, announced its opposition as well.
Proponents denounced the threatened veto.
"The White House believes the government ought to control the Internet, government ought to set standards, and government ought to take care of everything that's needed for cybersecurity," House Speaker John Boehner told reporters at his weekly news conference. "They're in a camp all by themselves."
The bill now goes, somewhat weakened, into a conference committee, there to be meshed with a new Senate cybersecurity bill, which is expected to be voted on next month. A final bill for the president to sign – or veto – could possibly emerge from Congress sometime this summer, several legislative watchers say.
---