Is Eric Holder contempt vote over Fast and Furious about race?
Eric Holder on Thursday became the first US attorney general to be held in contempt of Congress. The story of how race became entwined in the debate over the Fast and Furious gun-running scandal is a parable of the Obama presidency.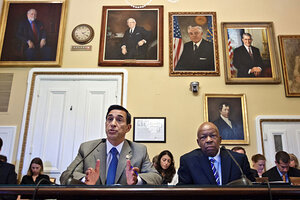 J. Scott Applewhite/AP
As Eric Holder became on Thursday the first US attorney general ever to be cited for contempt of Congress, House members faced the possibility that their investigation of a botched federal gun-trafficking sting could become a racial flashpoint.
Black leaders have rallied around Attorney General Holder, and the Congressional Black Caucus walked out Thursday when the entire House voted 255 to 67 to pass a recommendation by the Oversight Committee to hold Holder in contempt, which could lay the groundwork for a criminal investigation.
Already, Holder had brought race into the debate over the Fast and Furious gun-running scandal. The House Oversight Committee's investigation was a way for Republicans to get at the president in part because "we're both African-American," he told The New York Times last year.
And Holder has pushed the envelope on race before, for example calling America "essentially a nation of cowards" for failing to debate race openly.
Now, the moves in Congress Thursday raise the specter of charges of a racial conspiracy by white Republicans against a black administration.
---