In Midwest, fight over labor unions to be at heart of 2012 election
Although labor unions have had some reservations about President Obama, they're still looking to him as their best ally in the 2012 election. Meanwhile, Republicans who are hoping to further curb unions are putting stock in Mitt Romney.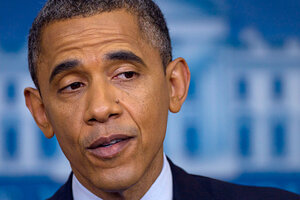 Carolyn Kaster/AP/File
The fight over labor unions in the Midwest is a big reason why this region is shaping up to be a major battleground in the general election this fall.
Four years ago, Barack Obama won the upper Midwest, where union membership is densest. But since then, Republicans in this part of the United States have targeted labor rights. Legislation curbed bargaining rights in Wisconsin and made Indiana a "right to work" state. Ohio Gov. John Kasich (R) signed a law that limited collective-bargaining rights for all public-sector workers, although voters repealed it last year.
Moreover, Illinois Gov. Pat Quinn (D) has proposed cuts to state pensions and closures of prisons, which has rankled organized labor because it would eliminate thousands of public jobs.
Confronted with such moves, unions have also mobilized. In Michigan, they're trying to put a measure on the November ballot that would make right-to-work legislation unconstitutional.
---