Dreaded sequester looming, Congress demands White House identify cuts
In a rare, nearly unanimous vote, the House and Senate called on the Obama administration to itemize within 30 days what, exactly, the $109 billion in mandated spending cuts will affect Jan. 1.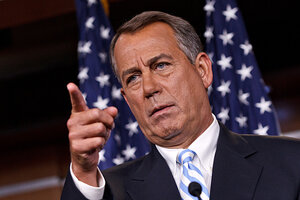 J. Scott Applewhite/AP
After the hullabaloo of the Senate's vote to extend the Bush tax cuts for one year on household income up to $250,000 on Wednesday, the chamber quietly passed another piece of legislation that may do much more to inform debate on Capitol Hill once lawmakers return from their August recess.
By unanimous consent, the Senate agreed to a bill that would require the White House to outline what budget items would be cut under the budget-slashing "sequester" within 30 days of the law's enactment. That bill, previously passed in the House 414-2, heads to President Obama's desk for a signature.
While members of both parties have decried the sequester, the fact that the $109 billion in reduced spending come January does not specify which programs will be cut has caused additional anxiety on Capitol Hill. What this legislation would do, Congress hopes, is frame the argument in terms of concrete priorities rather than large, hard-to-grasp dollar figures.
The sequester is Washington shorthand for the automatic spending reductions mandated by the Budget Control Act, the compromise legislation that ended last summer's debt-ceiling fight. That legislation increased America's loan limit in exchange for imposing spending caps on the 10 years of federal budgets. It also required Congress to find an additional $1.2 trillion in cuts over the next decade, either by negotiation, which failed, or by sequester: $600 billion in defense and $600 billion discretionary spending on items like social services and education.
---