Tropical storm Isaac: Will it drown out Mitt Romney's big moment?
The Republican convention is crucial to Mitt Romney's attempts to overcome his image as an uncaring plutocrat, GOP experts say. But tropical storm Isaac could be a huge distraction.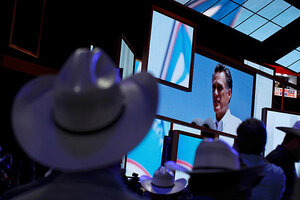 Shannon Stapleton/REUTERS
Heading into the Republican National Convention in Tampa, Fla., this week, Mitt Romney already faced a steep climb: The wealthy, guarded Republican presidential candidate needed to open up about himself and show voters that he understands the lives of average Americans and deserves their trust, political analysts say.
Now he must compete with tropical storm Isaac, which on Monday was bearing down on the Gulf Coast – an eerie echo of hurricane Katrina, from exactly seven years ago. At best, this unwelcome guest gives Mr. Romney a split-screen convention, as he competes for viewership with potentially dramatic footage of weather aftermath.
"Big storms are like car chases," says Ford O'Connell, head of the conservative Civic Forum PAC. "He's got to break through."
When Romney addresses the convention on Thursday, it will be his biggest moment in the national spotlight to date – and a crucial lead-in to his debates with President Obama in October. Polls show Romney in a tight race against an incumbent president with a weak economy and high unemployment. In other words, this race is winnable for Romney. But voters like Mr. Obama more than they do Romney, and history has shown that the more likable candidate usually wins.
To break out, Romney has to reveal more of himself to voters, said Republican strategist Karl Rove, appearing Monday at an event hosted by the news site Politico.
"They'll hear a lot about tax cuts and large economic plans and Medicare reform packages, and blah blah blah blah blah, and that matters a lot to them," says Mr. Rove, former George W. Bush political guru and a major force behind the American Crossroads "super political-action committee." "But they also want to know who is this person that is asking me to give them their vote to occupy the most consequential office in our country."
Obama has done a good job of turning Romney into a caricature of the rich, uncaring businessman, Republicans say, and the time has come to turn that around – particularly with that sliver of the electorate that remains undecided and could determine the outcome.
---