Obama's health-care law saved Americans $2.1 billion: Is it working?
A government report shows that rules in Obama's health-care law saved consumers $2.1 billion in premiums last year. It shows that states are using the law to their advantage, experts say.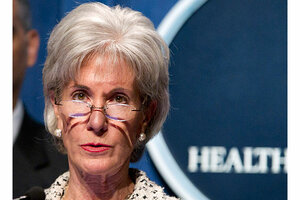 Manuel Balce Ceneta/AP/File
President Obama's health-care reform law saved American consumers $2.1 billion on health insurance premiums in the past year, Secretary of Health and Human Services Kathleen Sebelius said Tuesday. It is proof, she said, that the program is helping to make "the insurance marketplace more transparent and more competitive."
In the overall picture, the savings are modest, but they offer a degree of assurance that the Affordable Care Act (ACA) – ridiculed by many conservatives as big-government financial disaster – can deliver on some promises of bringing down high health-care costs, experts say.
Moreover, they offer a window on how states have begun to implement various cost-saving measures within the law with some success.
The reforms have "bolstered states' exercise of their authority," says Brent Fulton, assistant adjunct professor of health economics and policy at University of California, Berkeley.
The Rate Review Program strengthened the capacity of states to review – and reject – proposed insurance-rate increases of more than 10 percent. This saved Americans $1 billion on proposed rate increases that were either reduced or withdrawn during the review process, according to the Health and Human Services report.
---