Cybersecurity bill: Why senator is taking his case straight to top CEOs
Amid opposition from business groups to a cybersecurity bill, Sen. Jay Rockefeller is writing CEOs of the nation's top 500 companies for their views 'without the filter of Beltway lobbyists.'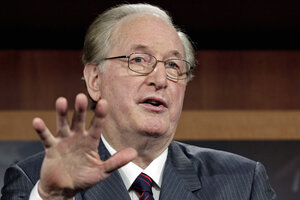 J. Scott Applewhite/AP/FILE
Seeking to overcome opposition from the US Chamber of Commerce and other business groups to a cybersecurity bill, Sen. Jay Rockefeller (D) of West Virginia took the unusual step Wednesday of writing the CEOs of the 500 largest US companies to request their views on cybersecurity and the legislation aimed at protecting the nation's critical infrastructure from computer attacks.
Senator Rockefeller wrote a day after two other Senate Democrats, Chris Coons of Delaware and Richard Blumenthal of Connecticut, wrote a joint letter to President Obama calling on him to issue an executive order aimed at protecting critical infrastructure from cyberattack. Rockefeller and Sen. Diane Feinstein (D) of California also have called for presidential action.
Speculation that the president might be weighing such an order emerged less than a week after the Senate on Aug. 2 failed to pass cybersecurity legislation, effectively filibustering the bill by falling short (52-46) of the 60 votes needed to cut off debate.
---