How many will pay health-care tax penalty? CBO estimate rises 50 percent.
Citing a gloomier economic outlook, and to a lesser extent the Supreme Court ruling on Medicaid expansion, the CBO now estimates 6 million people will pay the health-care tax penalty by 2016.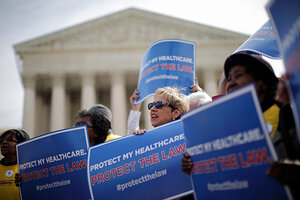 Charles Dharapak/AP/File
Citing a gloomier economic outlook, the Congressional Budget Office now says the number of people who will pay tax penalties under President Obama's health-care reform law will be 50 percent higher than originally estimated – 6 million instead of 4 million – when the tax penalties have been phased in completely in 2016.
Some 30 million nonelderly US residents (essentially, those not eligible for Medicare) are expected to be uninsured at that point, according to a CBO report released Wednesday.
But a majority of them will not fall under the individual mandate of the Affordable Care Act (ACA) because they are either unauthorized immigrants, members of Indian tribes, or low-income earners who would have to pay more than 8 percent of their income on health-care premiums.
Of the 12 million people who do fall under the mandate, about half will qualify for exemptions due to economic hardship or religious beliefs, the report says.
The 50 percent increase in the CBO estimate takes into account both the poorer US economic outlook and the effect that the Supreme Court's ruling in July will have on implementing the law, specifically as it relates to expanded Medicaid access.
The Supreme Court removed the requirement for states to expand their eligibility for access to Medicaid. The new CBO report anticipates that some states accordingly will not expand Medicaid, which will result in a small increase in the number of uninsured. A majority of the increase, however, is based on gloomy projections for the US economy, including a higher unemployment rate and lower wages and salaries.
Policymakers disagree on who will be impacted most by the tax penalties.
---