Election 2012: Ballot initiatives reflect nation's mood
The 174 propositions on state ballots point to evolving opinions on marijuana, same-sex marriage, health care, and more. Do the initiatives show the power of direct democracy or lack of legislative leadership?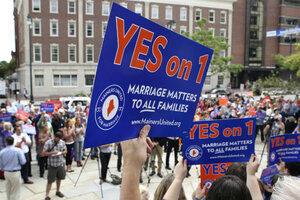 Joel Page/AP
Proponents call it "direct democracy," opponents call it "vigilante democracy" – and political scientists call it a vibrant part of American democracy.
On Nov. 6, voters in 37 states will decide 174 ballot propositions – the most since 2006, but well below the highs of the late 1990s and early 2000s, when voters were routinely considering more than 200 initiatives on Election Day.
The slate of 2012 initiatives points to several trends across American politics.
For one, the number of initiatives put on the ballot by citizens (as opposed to legislatures) has dropped, suggesting that the weak economy is hampering grass-roots efforts.
Meanwhile, in "a symptom of the polarization in American politics," 12 popular referendums qualified for the November ballot, noted Jennie Drage Bowser of the National Conference of State Legislatures to Governing magazine. Popular referendums allow citizens to approve or reject a law passed by the legislature. In a typical election year, only two or three qualify for the ballot, suggesting a "tug back in the political tug-of-war" this year, Ms. Bowser said.
As always, these referendums and initiatives serve as a Rorschach test for what is on voters' minds, and this year they offer a glimpse into evolving American opinions on marijuana, same-sex marriage, and President Obama's health-care law, in particular.
---