Petraeus affair: From romantic jealousy to the downfall of 'King David'
Details are emerging about the extramarital affair that led to CIA Director David Petraeus's resignation. Some in Congress want to know why the FBI waited so long to inform them.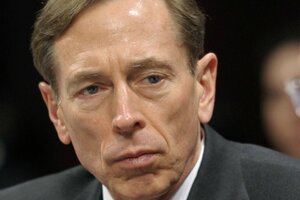 Cliff Owen/AP
The sudden resignation of CIA Director David Petraeus apparently started out in prosaic fashion, based on romantic jealousy that sounds like junior high school.
According to news reports that grew in detail over the weekend, the retired four-star Army general's paramour – identified widely as Petraeus biographer and confidant Paula Broadwell – had become jealous of another woman close to Mr. Petraeus. She sent harassing e-mails to the other woman, who filed a complaint eventually taken up by the FBI.
When agents investigated Ms. Broadwell's e-mail account, they discovered romantic exchanges she had had with the CIA director. Concerned about possible security breaches, agents looked at Petraeus's personal email account. In a short time he was admitting to an extramarital affair and handing his resignation to President Obama.
RECOMMENDED: 5 ways events overseas could shape Obama's second term
At this point, there is no evidence that intelligence or national security secrets were compromised during the hidden affair, officials have said. It was via his personal Gmail account – not his secure CIA email – that Petraeus and Broadwell communicated. As a West Point graduate and Army Reserve officer, Broadwell had her own security clearance, although she would not have had the "need to know" required for the highest levels of secrecy.
---