Republicans, Democrats dance around the 'fiscal cliff'
President Obama and Speaker Boehner want to avoid the looming 'fiscal cliff,' which will require new revenues as well as budget cuts. Can that happen without more taxes on the wealthy?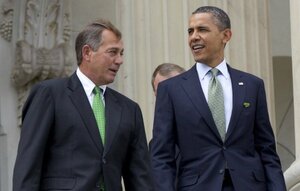 Carolyn Kaster/AP
Republicans and Democrats peered over the "fiscal cliff" this week and allowed as how they might be able to get along after all – avoiding the automatic tax increases and across-the-board spending cuts due to hit January 1, rattling the economy if Congress and the White House fail to act.
At least that was the message in their post-election rhetoric, and it continued five days later on the Sunday TV talk shows.
"I am optimistic," Sen. Bob Corker, (R) of Tennessee, said on Fox News Sunday. "I think there is the basis for the deal."
Top Obama aide David Axelrod said he had been encouraged by House Speaker John Boehner's comments in recent days. 'I think there are a lot of ways to skin this cat, so long as everybody comes with a positive, constructive attitude toward the task,' he said on CBS's Face the Nation.
Any deal, all agree, would have to include revenue increases as well as budget cuts. A key question is whether any new revenue includes changes in tax rates – specifically, an end to the Bush-era tax cuts for those earning more than $250,000, which is what President Obama has been pushing and Rep. Boehner says "no" to.
---