Benghazi attack: 'Terrorists' or 'extremists'?
Congressional Republicans are digging into what the Obama administration knew about the attack on the US consulate in Benghazi, Libya, that killed four American officials. The focus on UN Ambassador Susan Rice – a possible Secretary of State – has become very political.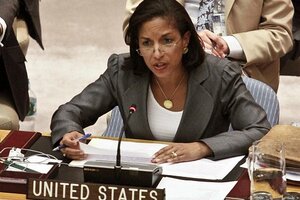 Bebeto Matthews/AP
Was the 9/11 attack on the US consulate in Benghazi, Libya, carried out by "terrorists" or by "extremists"? In the supercharged political atmosphere following a violent episode in which a US ambassador and three other Americans were killed, the chosen rhetoric definitely matters.
It gets to what the Obama administration knew and when it knew it, whether it was adequately prepared for the possibility of attack at a time when a crude anti-Islam YouTube video was roiling the volatile region, and whether the White House might have downplayed the attack during the final weeks of a hotly-contested presidential race.
Friday's closed congressional hearings featuring now-disgraced former CIA director David Petraeus did little to clear things up.
IN PICTURES: Libya's critical transition
Based on lawmakers' comments after Petraeus' private testimony, as well as public statements by intelligence officials in the weeks following the attack, the CIA did determine early on that the violence involving heavy weapons was – by definition – carried out by terrorists.
But the first official public statements used the word "extremists" – both to conceal intelligence-gathering sources and methods (so as not to reveal the terrorist groups it was tracking) and also because that was seen as the more inclusive word.
---