'Fiscal cliff' road trip: Is Obama trying to paint GOP as Scrooge?
President Obama travels Friday to a toy factory in suburban Philadelphia, where he will say early agreement on keeping middle-class tax cuts would provide certainty for holiday shoppers. But after Thursday's blowup with the GOP on Capitol Hill, a deal seems far away.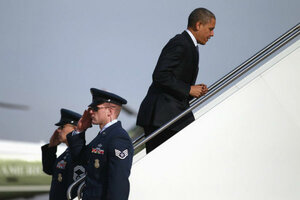 Jason Reed/Reuters
President Obama heads to suburban Philadelphia Friday for a campaign-style appearance at a toy factory, aimed at making the Republicans look like Scrooge: Vote to extend the Bush-era tax cuts on everyone but the most wealthy, or you will ruin Christmas.
Specifically, the argument goes, middle-class Americans need certainty that their taxes won't go up in the new year, so they can shop for the holidays – a boon to business and thus the nation's consumer-based economy.
Mr. Obama speaks at noon Eastern time at the Rodon Group manufacturing facility in Hatfield, Pa., which makes such toys as K'NEX and Tinkertoys. Rodon and K'NEX Brands are third-generation family businesses that depend on middle-class consumers during the holidays, the White House says.
"Today in Pennsylvania, expect President Obama to make clear that any deal reached with Congress must ask the wealthiest to pay higher tax rates," a White House official said in a statement. "The president will be clear that the House needs to follow the Senate's lead and act so that 98 percent of Americans don't see their taxes go up at the end of the year – and he will call on congressional Republicans to stop holding the middle-class tax cuts hostage simply because they refuse to let tax rates go up for the wealthiest Americans."
But there's a problem with the Obama administration's argument on the need to act fast: The chances of an early agreement are zero to none. The nature of high-stakes negotiations is such that each side needs to show its constituents that it has held out as long as possible to fight for the best possible deal.
Since Thursday, when Obama's representatives went to Capitol Hill and presented an offer that Republican leaders called unserious, a deal has seemed as remote as ever.
---