Why is Newark Mayor Cory Booker living on food stamps?
Mayor Cory Booker says access to food is becoming a 'social-justice issue,' and he wants to raise awareness about how hard it is to live off food stamps – about $30 a week.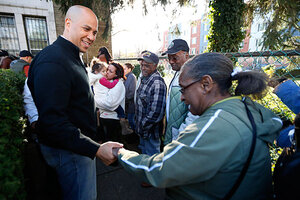 Julio Cortez/AP/File
What does it take to live on a $4-a-day food budget? For Newark, N.J., Mayor Cory Booker, it means no morning coffee, at least not for the next week.
Mr. Booker started a weeklong Supplemental Nutrition Assistance Program (SNAP) challenge Tuesday, testing his ability to stay within a $30 food budget, roughly equivalent to the average weekly assistance someone in New Jersey gets from food stamps, as SNAP was once called.
His decision to do the SNAP challenge is the result of a debate he had on Twitter about the role of government in supporting nutrition programs. His aim: raising awareness of food security and nutrition issues, especially in low-income urban areas, which are often "food deserts" or areas where there is low access to affordable nutritious food.
"We have much work to do at the local level to address a legacy of structural inequities in the American food system," Booker wrote in his challenge announcement on LinkedIn. "As more and more working people and families – many holding down more than one job – face greater and greater challenges to juggle housing, medical, and transportation costs, meeting nutritional needs becomes a serious problem and a social justice issue."
---