John Boehner plays down setback of his fiscal 'fallback' plan
House Speaker John Boehner acknowledged Friday that too many GOP lawmakers saw his bill, which would have let tax cuts lapse for millionaires, as a tax hike. But the setback won't affect 'fiscal cliff' talks with Obama, he says.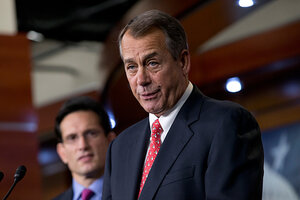 J. Scott Applewhite/AP
A day of rhetorical bluster in the House of Representatives ended with a slap-dash rush for the exits Thursday, as conflict among Republicans appeared to upend the course of ongoing talks between Speaker John Boehner and President Obama to avoid the package of tax hikes and spending cuts known as the "fiscal cliff."
On Friday, Mr. Boehner argued that the vote debacle did not signal any changes for better or worse in his stalled negotiations with Mr. Obama.
"Nobody ought to read anything into this. We've got differences, but the country's got big spending problems and we've got to get serious about addressing them," Boehner said Friday. "The president knows that I've always been able to deliver on any promise I've made with him."
Boehner and House Republicans had spent the past week chiding Obama for not being serious about avoiding the fiscal cliff, noting that the speaker's "fallback plan," which would have let Bush-era tax cuts lapse for millionaires, showed their own willingness to compromise. The now-dead measure would have preserved those income-tax rates for 99 percent of taxpayers – and would have allowed GOP lawmakers to counter the contention that Republicans are mainly intent on protecting the interests of the wealthy.
But the House leadership badly miscalculated. House majority leader Eric Cantor had vowed that Plan B had enough GOP support to pass without a single Democrat, but a firestorm of dissent among the most conservative GOP interest groups evidently triggered second thoughts among lawmakers. Those groups decried Plan B as tantamount to a tax hike and promised to hold lawmakers to account for supporting it – and whether by pressure from outside groups or lawmakers' own consciences, that issue is the one that sunk the vote.
---