'Fiscal cliff' meeting at White House: Will it be 'Lincoln' moment for Obama?
Many Senate Republicans say that with Congress deadlocked on averting the fiscal cliff, it is up to Obama to force a deal. The lesson from the movie 'Lincoln,' they say, is 'the president has to lead.'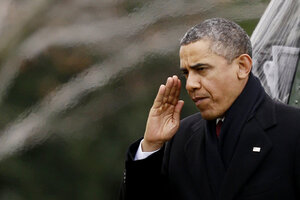 Charles Dharapak/AP
The Friday afternoon meeting with congressional leaders at the White House represents a potential "Lincoln" moment for President Obama as time has effectively run out to cut a deal to avert the Jan. 1 "fiscal cliff" of spending cuts and tax hikes.
That's the view, anyway, of many Senate Republicans, back in session this week, who say that, with Congress gridlocked, it's now all up to Mr. Obama to produce a plan that can both cut deficits and win bipartisan support.
"To get hard things done, the president has to lead," says Sen. Roy Blunt (R) of Missouri, referencing the must-see film of the year for Washington insiders, "Lincoln."
"Virtually every member of the Senate, I think, has seen this new movie on Lincoln, and the lesson of that movie is that to get hard things done the president has to decide he wants something done," he adds.
In "Lincoln" the movie, an intensely engaged, hands-on president consolidates Republican ranks on the need for an amendment abolishing slavery, while peeling off enough Democratic votes to win by argument or raw political muscle.
President Lincoln's effort to pass an amendment abolishing slavery took months. Obama has four days to find a way around some $600 billion in tax hikes and spending cuts set to take effect on Jan. 1.
Moreover, the 3 p.m. Oval Office meeting marks the first time the president has met directly with all four congressional leaders on the fiscal cliff since mid-November. With Congress gridlocked and House Republicans in disarray, it's not clear that the Obama White House has the capacity or the will to take responsibility for the outcome.
---