House GOP floats new debt-ceiling deal, with strings attached
House Republicans said they would agree to raise the debt ceiling, but only for three months and only if Senate Democrats promise to pass a budget (which they haven't done for three years).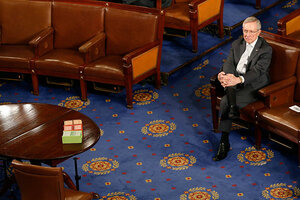 Kevin Lamarque/REUTERS
With the federal government only weeks away from hitting its borrowing limit, House Republicans have named their price for lifting the nation's debt limit for three months: legislation requiring lawmakers to pass their annual budgets or go without pay.
The proposal arises from Republican frustrations at Senate Democrats' refusal to pass a budget in any of the past three years. Republicans see this as an irresponsible ploy to shield vulnerable Democrats from taking tough votes on federal spending.
But the GOP plan also suggests that many Republicans are increasingly uneasy with the prospect of reliving 2011's debt-ceiling debacle Pushing the debt ceiling off for several months allows the House GOP to walk back from the brink of pushing the country into a catastrophic default while keeping the issue of debt and deficits alive in Washington for the foreseeable future.
President "Obama doesn't want to spend the second term on the budget, [and] these kind of moves make him spend the entire time on the budget," says Julian Zelizer, a congressional historian at Princeton University in New Jersey.
The move appeared to garner the support of the Republican Study Committee – the most conservative GOP caucus and the caucus most openly critical of GOP leadership.
"This is a necessary first step as we work to halt the decline of America and puts the focus where it belongs: on the Senate who has failed to do their jobs to pass a budget for more than three years," said a joint statement from Rep. Steve Scalise (R) of Louisiana, the current chairman of the RSC, and three former chairmen.
House majority leader Eric Cantor (R) of Virginia said the bill will come up for a vote when Congress returns early next week after Mr. Obama's inauguration.
---