Inauguration 2013: For attendees, a time for pride, hope, marking history
If the crowd at Inauguration 2013 meets the expectation of 500,000 to 700,000 people, it will be the largest ever at a second public inaugural. Here's how some of those who came see the moment.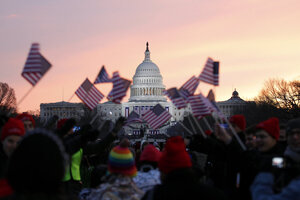 Jose Luis Magana/AP
Americans flocked to the National Mall on a blue-sky, chilly-but-not-freezing Monday morning, the air electric with anticipation as President Obama prepared for a second public swearing-in and inaugural speech.
The crowds won't come close to the crush of humanity that packed the Mall four years ago – 1.8 million people, by various estimations. Any president's second inauguration, by definition, can't match the first – even for the first African-American president, whose historic election in 2008 was celebrated the world over.
In fact, Mr. Obama began his second term on Sunday, with a small swearing-in ceremony at the White House. By tradition, when the constitutionally mandated Inauguration Day, Jan. 20, falls on a Sunday, the big show takes place the next day: another oath-taking at the West front of the Capitol, the inaugural speech, the parade down Pennsylvania Avenue, the balls.
But don't sell the 57th Inauguration short. If the crowd meets the expectation of 500,000 to 700,000 people, it will be the largest ever at a second public inaugural, and the fourth largest at any inauguration, behind Obama's first, President Lyndon Johnson's in 1965 (1.2 million), and President Bill Clinton's in 1993 (800,000).
And to many of those in attendance – some of whom traveled from far and wide, many of them African-American or even just plain African – Jan. 21, 2013, is just as meaningful as Jan. 20, 2009, all the more because it is also the holiday celebrating slain civil rights leader Martin Luther King Jr.
"It's an historical event," says Felicia John, a lawyer from Benin City in southern Nigeria. "I was unable to attend the last one. This time I felt I cannot fail to attend. I had to be here."
Obama is so important, Ms. John says, because he's an African-American. "If he can be president of America, then anybody from any [origin] of the world can," she says.
Rick Harwood, principal of Global Connections High School in Seattle, was on the Mall with 38 students ages 14 to 18, mostly from low-income families.
---