As clock ticks on 'sequester,' Washington runs short on ideas
President Obama takes to the bully pulpit again to blame Republicans even before sequester spending cuts begin. He's positioning himself for the debate to come, not to prevent the cuts from starting March 1.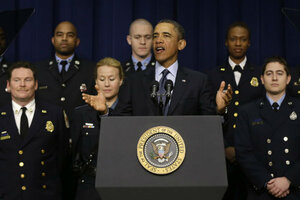 Charles Dharapak/AP
Deep, automatic federal spending cuts do not start for 10 days, but the blame game is already in full swing.
Pointing a finger at Republicans in Congress, President Obama painted a dark future Tuesday of weakened national defense, sidelined first responders, and shuttered school programs if the $85 billion worth of "brutal" spending cuts this year alone – called the "sequester" – go into effect.
The look of Mr. Obama's latest bully pulpit moment was familiar: He spoke from a White House auditorium, surrounded by "real people" who would be affected – in this case, emergency responders in uniform. And his rhetoric was biting, a signal that he's not trying to woo Republicans but rather position himself for the debate to come after the sequester goes into effect, as is widely expected.
Congress, in fact, is on recess this week. So Monday's show seemed principally for the cameras.
"Republicans in Congress face a simple choice," Obama said. "Are they willing to compromise to protect vital investments in education and health care and national security and all the jobs that depend on them? Or would they rather put hundreds of thousands of jobs and our entire economy at risk just to protect a few special interest tax loopholes that benefit only the wealthiest Americans and biggest corporations?"
Neither side, of course, wants the sequester to kick in. It was designed in 2011 to spur both sides to reach a compromise. But the usual sticking point remains: taxes. Obama says a sensible solution includes targeted spending cuts and tax increases via the closing of certain loopholes and deductions. Republicans say they're done with tax hikes; they gave in last December during the fiscal cliff talks, agreeing to an increase in the top marginal rate for the wealthiest taxpayers.
---