Gun trafficking bill passes Senate panel. Is that it for Obama gun agenda?
A gun-trafficking bill picked up important Republican support Thursday, improving its chances for passing the full Senate. But other parts of President Obama's gun-control agenda are in limbo.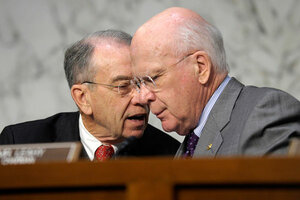 Susan Walsh/AP/File
The Senate took a crucial step toward passing its first piece of gun-control legislation since December's massacre in Newtown, Conn., moving a bill to crack down on "straw" purchases of firearms and gun trafficking out of committee.
The bill, which stiffens penalties for people who buy weapons for those ineligible to own firearms, passed the Senate Judiciary Committee Thursday, 11 to 7, with Sen. Charles Grassley (R) of Iowa joining all the panel's 10 Democrats.
With Senator Grassley's support, the bill is tantalizingly close to the 60 votes needed to break a potential filibuster on the legislation. Republican Sens. Susan Collins of Maine and Mark Kirk of Illinois have already signaled their support, and even deeply conservative members such as Sen. Ted Cruz (R) of Texas and Sen. Jeff Sessions (R) of Alabama expressed optimism Thursday that they could support the measure with relatively minor changes before it comes to the Senate floor.
---